Tourist places in Riosucio Caldas and surroundings that you should know
Below you will find a list of the top 8 tourist places of Riosucio, Caldas and surroundings that you should know:
fire restaurant
Little Coffee Trail
The river trout
The Posada del Arriero
Lamour Cafe Bar Gallery
Villa del Carmen Restaurant
The Coffee House Gathering
Traditional cuisine flavors and knowledge the claret
Sun Village of the Andes
The chontaduro station
Mountain Artisan Wine
Yoga in Rio
Millenary Bees and Ecosystems
Ingruma Hill
Colombia is full of beautiful municipalities loaded with a lot of history and unique landscapes that you should know, that's why we bring you the municipality of Riosucio Caldas which was founded in 1819 by Spanish priests José Bonifacio Bonafont and José Ramón Bueno.
Riosucio Caldas has an average of 50 thousand inhabitants and has its own temperate climate to take a walk through its beautiful streets.
Next, we will talk about the 8 most emblematic tourist places of Riosucio Caldas and surroundings.
1.FIRE RESTAURANT
Fuego Restaurante was born as a gastronomic experience through the traditional flavors of Riosucio Caldas, that's why Carlos (The chef) and Yuli (The publicist) traveled from Pereira to make this dream called FUEGO come true.
The raw material of all its dishes is based on the traditional cuisine of Riosucio Caldas, such as native beans, cider mayonnaise, mini wrapped hamburgers, etc.
Visit this great place and live a unique experience in Riosucio Caldas
2.LITTLE COFFEE PATH
Coffee farm located in Riosucio Caldas at a height of 1960 meters above sea level, in the Señora Candelaria la Montaña shelter, love for the land inspired three enterprising women who decided to transform the coffee plantations into an oasis of knowledge and tranquility for tourists by leading a tour where they can live for a day this beautiful experience of being a coffee grower. They can also enjoy the rural lodging and traditional restaurant.
Meet the latest Tours of Riosucio Caldas by clicking here: Tours Riosucio Caldas
3. THE TROUT RIVER
The river trout farm is located in an exceptional place between Oro and Riosucio Caldas with a great diversity of fauna and water sources, thus allowing the creation of a unique space to spend with family or friends. We have a trout farm and a restaurant for all tastes.
4. THE ARRIERO'S POSADA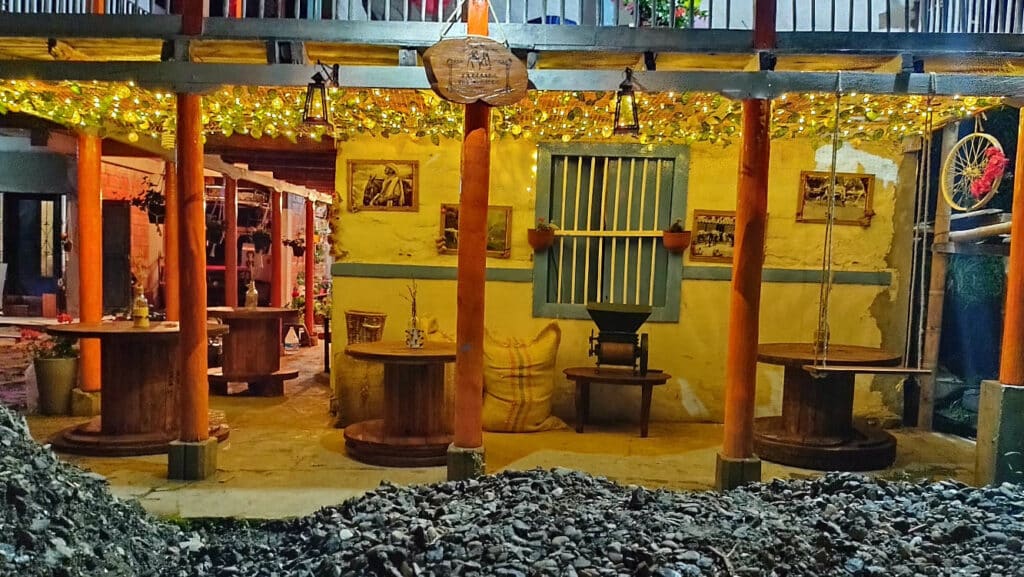 La Posada del Arriero was created on March 20, 2021 as a typical restaurant, located in a house of rural architectural heritage where it is widely known for its typical traditional food made in firewood and in the tranquility of the countryside.
5.LAMOUR COFFEE BAR GALLERY
It was created as an art gallery, coworking and as a unique space to share with family or friends. It is widely known in the Plaza de San Sebastían because it has tables in the atrium enjoying a spectacular view.
6. VILLA DEL CARMEN RESTAURANT
Villa del Carmen is a family project that was born with the idea of creating a place to enjoy with family and friends. This beautiful place is on the road to Bonafont.
7 THE COFFE HOUSE GATHERING
It was born with the union of several businessmen in alliance with the CHIRAKA cooperative. The gathering is one of the places that cannot be missed on your visit to Riosucio Caldas.
8. TRADITIONAL CUISINE FLAVORS AND KNOWLEDGE EL CLARET
Listen to Luz María's story about the generation gap and traditional seeds in the following audio.
9. SUN VILLAGE OF THE ANDES
At Aldea Sol de los Andes we connect with healing through holistic therapies, healthy eating and payment to the 4 elements. Our services are accommodation in Ecolodge and camp, gastronomic experience and experiential ceremonies.
10. THE CHONTADURO STATION
The chontaduro station is a place where we want to show the world the tradition and economy of our peasants by saying that we are pioneers in Caldas and enjoy the best chontaduro in the country.
Our product portfolio: Chontaduro juices, borojo, chontaduro jams, chontajadas, cooked/raw chontaduro in fresh fruit and chontaduro granita.
11.ARTISAN WINE FROM THE MOUNTAIN
Product born from the ingenuity of a peasant from Riosucio Caldas who created banana wine.
12.YOGA IN RIVER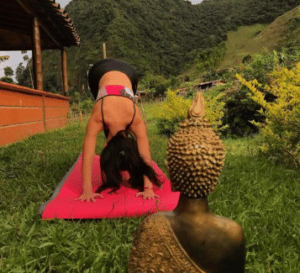 Company dedicated to promoting the integral well-being of the being through yoga, meditation, breathing and awareness of the soul through personal experiences of connection.
Yoga and meditation practices, menstrual education. Healthy and conscious eating.
13. MILLENARY BEES AND ECOSYSTEMS
We are a company dedicated to working with Africanized and native stingless bees, offering products and services, we are located in the community of the cabin in the Mountain Indigenous Reservation.
Our products are: Apis melifera honey, honey from native stingless bees, bee-friendly coffee, 1-day experience getting to know the apiary, tasting of honey from different species of bees, artisan liquor mountain flower, experience around agroecological practices, possibility of lodging.
14. INGRUMA HILL
Dirty river is widely known as the 'Pearl of the Ingruma.  In addition, it inspired the name of the stone was inspired by the dances of the Ingruma, a folkloric group that has existed since 1968. A beautiful path filled with a lot of history that you should know about.